UK's top award winner 2018 is Hunter!
On Wednesday 20th June the Hunter team attended the UK National Awards for the Professional Clothing Industry at the Park Plaza London Riverbank Hotel and were joined by the senior team from Virgin Trains.
What an outstanding night for both Hunter and Virgin. Natasha Grice, HR Director at Virgin Trains won 'Woman of the Year 2018'; Hunter won 'Best Managed Major Contract' with Virgin Trains for our project which saw us roll out 3,500 new uniforms, developed and manufactured by Hunter.
Hunter also won a shared award with Virgin for 'Best Business Manager' and was highly commended in the 'Made in UK' award. Quite a celebration by the Hunter and Virgin team!!
Hunter CEO Simon Hunter said,
"This is the second time Hunter have received the UK's top awards for Business Management and Major Contract Management. Previously, we were nominated by the public sector but this is the first time for us to be nominated by the private sector for excellence in contracting. We hope clients throughout the UK will take this mark of excellence into consideration when tendering in the coming years and make sure they invite the UK's top performing company to their competitions going forward."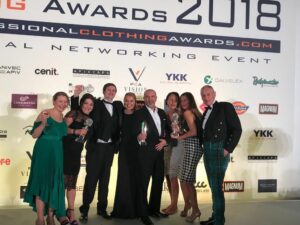 Pictured above; the Hunter and Virgin teams on awards night.