This week Hunter Apparel has scooped an unprecedented top 3 UK industry awards. The awards ceremony is an annual event and was held at the Hilton Metropole in Birmingham on Tuesday evening.
John Miln CEO of the UK Fashion & Textile Association presented Managing Director Simon Hunter C Dir. with an unprecedented 3 awards across the top industry categories which included; Best Business Manager, Best Managed Major Contract, and Best Bespoke Work-wear Uniform Design.
The Best Business Manager award is a joint award shared between Hunter Apparel and their client Border Force and shows excellence in delivering a major contract between the public and private sector. Border Force nominated Hunter Apparel for this award due to their outstanding performance in the roll out of a completely new work-wear design for all 11,000 Border Force and Immigration Enforcement staff across 117 sites UK wide using Hunter's unique web based managed service known as 'HunterPac'. Hunter Apparel supplied over 250,000 items to them in record time to a hugely positive response from the wearers and saved Border Force a substantial sum of money while driving the quality of both product and service upwards. This project has earned huge praise at the highest levels across The Home Office in Whitehall as the uniform is seen as a highly important statement, being worn at the first point of contact travellers have on entering the UK through any port or airport.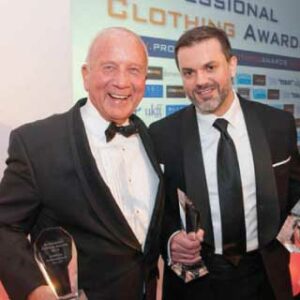 Simon Hunter, Managing Director, Hunter Apparel Solutions Ltd