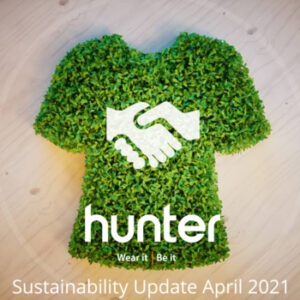 2020 saw Hunter continue to develop their Vivid Vision and a truly innovative approach to sustainability, incorporating and maintaining procedures that enhance their long-term commitment to the environment, employees, and the communities within which they work.
The multi-award-winning corporate wear and PPE supplier, Hunter has established itself over 85 years of trading as the most stable, financially robust, technology and design-led agile company within the industry.
A family-owned and run firm that has diversified into different sectors over time, with deeply learned staff expertise and innovative IT solutions strengthening the business by adding layers of value for our clients.
2020 provided challenges and opportunities, Hunter adapted quickly to the pandemic, introducing exceptional safety measures to reduce the risk to staff, their families, and the local community. This meant that Hunter staff could all remain in work throughout the Covid period servicing more than 50 million items of PPE to the front line successfully at the peak of the pandemic at a time of immense strain on the global supply chain. Not a single member of Hunter staff has become ill at work through the entire period.
"I have never been prouder of leading Hunter than during 2020. We as a team really played our part in protecting the frontline. We mobilised quickly and focused on what was a marketplace in desperate need of PPE that had been ethically sourced and processed through a deep due dil process.
We delivered in spades and I feel as an employer it was vitally important to provide the safest possible workspace to allow us all to be together working hard serving our purpose-driven mission.
Part of our central purpose is to drive improved levels of sustainability and we invest in that. In 2020 we invested c.£ 1,000,000.00 in Hunter to help us deliver for our customers. Our UK manufacturing facility allows us to produce goods faster and with a lower carbon impact. During 2020 our UK R&D facility developed the world's most sustainable EN 14683 certified IIR tested face cover- the Hunter Ultra. This product has quickly become the "must-have" item and is already the market-leading product of its type in fire service and rail sectors."
Simon Hunter, Esq, MBE C.E.O. of Hunter Apparel Solutions Limited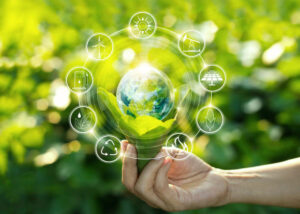 Sustainability projects that Hunter has committed to
Hunter's commitment to environmental sustainability is evident in the company's long term  ISO14001 certification
Hunter can offer recycled polyester for suiting. Cut from recycled polyester-blend cloth with canvas and trims that have been consciously chosen for their low impact on the environment. 95% of the polyester used in the suiting is made from recycled plastic bottles. Our suiting products are then crafted in our factories using renewable energy.
AI-driven innovation contributes to substantial environmental improvement, achieved through a scan of the body being taken for your employee all from the comfort of a private location using a mobile phone or tablet. A 100% reduction of carbon impact when sizing staff compared to traditional sizing methods, as well as being hugely cost and time efficient.
Hunter has its own tech-driven manufacturing unit and can offer this as well or instead of offshore production. The made in the UK approach will be the most sustainable in terms of manufacturing and logistics.
Hunter has used several methods to dispose of garments, whether that be debranding and reusing the item with the objective to help local communities. Recycling of garments, to be used as materials for different products, any items that need to be securely disposed of can be done so and then the shredded waste can be recycled to in an environmental manner for reuse. A new method will see us incorporate dissolvable threads for total disassembly.
2021 will see Hunter push the boundaries regarding its commitment both internally and externally, consistently looking at ways to improve on sustainability and reduce carbon footprint.
If you would like to find out more about Hunter or our sustainability goals for 2021 and beyond please contact us at Team@hunterapparelsolutions.com