During September 2017, CEO Simon Hunter and CFO Roisin Hunter attended the launch of Hunters recently developed new uniform for Virgin Trains.
CFO Roisin Hunter said, "We have had a wonderful day, the Virgin staff looked so glamorous and professional. We were utterly delighted with the most overwhelmingly positive roll out reaction we have ever experienced".
The launch day was best described by Patrick McGrath, Executive Director of HR for Virgin Trains as, "…the best day in my career as Executive Director of HR for the past 10 years. …"
This roll out saw Hunter deliver a new uniform range including tailored clothing and work wear to over 3000 staff. All Virgin Trains staff were personally fitted, and then supplied with their person packs all being delivered to their home addresses using HunterPAC® managed service technology solution.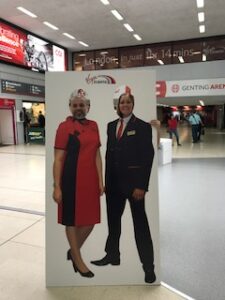 Pictured above: CEO Simon Hunter and CFO Roisin Hunter joining in on the fun during their visit to Virgin Trains stations for the new uniform roll out.