Tunisia: the UK's nearshore partner for professional clothing manufacturing. An essential webinar by OCO Global, CEPEX Tunisia, Hunter Apparel Solutions Limited and the Professional Clothing Industry Association Worldwide (PCIAW®)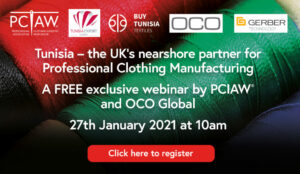 Simon Hunter, CEO of Hunter Apparel Solutions, will be participating in the upcoming webinar, 'Tunisia: the UK's nearshore partner for professional clothing manufacturing' with OCO Global, Cepex Tunisia and the Professional Clothing Industry Association Worldwide (PCIAW®). This webinar will present the Tunisian textile industry as an opportunity to nearshore manufacturing of workwear, corporatewear and PPE for more resilient, high-quality supply chains. Hunter Apparel Solutions is offering its invaluable experience in manufacturing to paint a picture of collaboration with Tunisian Tunisian textile manufacturers.
On 27th January at 10am, Colin McCullagh, Director of OCO Global, a world-renowned investment firm working with the UK Department for International Trade (DIT) will host Cepex Tunisia with representatives of the Tunisian government to explore the opportunities that the country's textile sector has to offer with its established infrastructure and talented workforce.
OCO Global and Cepex Tunisia works with the DIT to promote the Buy Tunisian Textiles project and offers a support network for workwear suppliers, to assist in the relocation of manufacturing professional clothing to the UK's new nearshore partner. Many French, Italian and German companies currently work with Tunisian textile manufacturers and the UK Department for International Trade supports this initiative to strengthen ties between the UK and Tunisia.
The coronavirus pandemic has highlighted the lack of resilience in textile supply chains in times of uncertainty and restrictive border controls. This timely webinar promoting the nearshoring benefits of manufacturing closer to home provides nearshore solutions and more local partnerships that can help workwear suppliers provide reliable quality at reasonable costs.
Hunter Apparel has pioneered the creation and management of technology driven professional clothing. Over the years, it has fused ingenious design with innovative technology to optimise the performance of businesses on every level with work smart wear. Hunter's practical solutions lead the industry in highly advanced technologies which revolutionise company organisations, with innovative software promoting flexible service and efficiencies.
Hunter Apparel will be lending its expertise to this exclusive, free webinar to illuminate essential UK guidelines and regulations for Tunisian manufacturers in this exciting opportunity. It will be sharing its unique insight into workwear manufacturing and work closely with OCO Global and PCIAW® to analyse the strategic benefits of nearshoring manufacturing in Tunisia.
Yvette Ashby, Founder and CEO of PCIAW® says: "We have had the pleasure of working with Cepex and the Tunisian government for many years and we are looking forward to re-establishing the relationship. Tunisia has amazing infrastructure and people who have a talent and passion for textiles".
With Brexit on the horizon and sustainability in mind, businesses are apt to prepare contingencies and Tunisia could well be the solution to the challenges that they face.
The textile sector is one of the largest employers in Tunisia, with over 161,000 workers and around 1600 companies ready for investment and business opportunity.
Register for the Tunisia nearshoring webinar here:
https://zoom.us/webinar/register/WN_0oJTl2c3Rb6D0lco0xfJlw
For more information on the webinar please visit PCIAW website here