Hunter Apparel Solutions Limited (Hunter) has been recognised by the British Safety Industry Federation (BSIF) as the overall winner of the U.K. Safety Solution Award 2020 for their work on Improving Long-term Health Outcomes for Firefighters.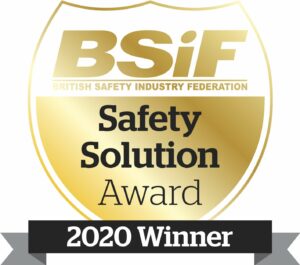 Hunter is a 3rd generation family-owned professional clothing, PPE-managed service, and specialist care and maintenance supplier based in Northern Ireland.
Hunter's award-winning R&D allows highly agile product innovation and technology-driven software solutions, and these cutting-edge developments have been recognised by the BSIF expert judging panel.
This recognition by the BSIF highlights the role Hunter plays in supporting their customers in the fire and rescue services and specifically highlights a case study in collaboration with Dublin Fire Brigade in improving the long-term health outcomes for firefighters. Hunter delivered on these goals with better designs superior services highly agile technology solutions and a real focus on rigorous deep cleaning and regular inspection of PPE.
C.E.O. Simon Hunter Esq, M.B.E. said,
"Winning this most prestigious of national awards is such a meaningful recognition for myself and the staff at Hunter and I am most proud of this. Hunter's purpose is about providing better levels of protection for frontline workers in terms of our products, services and how we use proprietary technology to deliver on this purpose. Making a contribution, that we know will help create better long-term health outcomes for firefighters is work that we believe in deeply and that we have an unrelenting desire to continually improve upon."
We are looking forward to telling you all more about the safety solutions we offer for both the fire and rescue services and the wider marketplace that we serve. You can also check out our case studies here or you can contact us at Sales@hunterapparelsolutions.com