Simon and Roisin attended the PCIAW events in Portugal recently.  They were part of a global group of leaders who travelled to a few factories looking at  manufacturing premises and   making contacts with new suppliers.  Simon also attended the first non-UK PCIAW meeting in Porto.
 The work wear garment industry in Europe alone is estimated at around 40 billion Euros with around 51 million wearers (11 million wearers in the UK and Ireland alone). The Western European corporate wear market is estimated at €3.4 billion with 44 million wearers and the demand in Europe for  multi-national uniform solutions is on the rise.
There is a huge and competitive demand to provide safe, quality and durable garments for this supply chain. PCIAW help  members discover new opportunities for their business, further their reach, secure new business and strengthen their position in a thriving industry.
We have already begun with a new manufacturing partner in Portugal and we are hopeful that we commence with a few more soon to improve our fast response ability.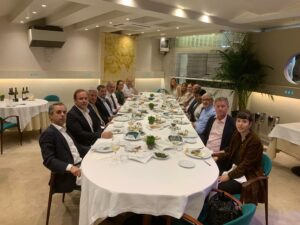 Simon and Roisin @ The Portuguese Manufacturers Society dinner in Porto.