Hunter Apparel Solutions Limited are pleased to announce that Chief Executive Officer Simon Hunter, C.Dir FIoD has won Best Overall Director of the Year in the UK at the Institute of Directors, Director of the Year Awards 2015. This most prestigious national business awards ceremony took place on the 23rd October at the prestigious Lancaster Hotel – London, celebrating directors at the forefront of leadership excellence. Directors who win these awards have been recognised as the best in their field by the leading organisation for business leaders, the IoD.
Hunter Apparel Solutions are a technology driven professional clothing company, adding value to their customer supply chains globally through their sophisticated proprietary technology led software systems HunterPAC® and HunterCARE®. Hunter's clients include London Fire Brigade, UK Border Force, Immigration Enforcement, and many other private and public sector organisations.
Simon Hunter originally became a Chartered Director on the 21st September 2012. Simon was the first placed candidate in the IoD 2012 examinations, winning the best score across all UK centres across 3 examinations during 2012. Simon was then made a Fellow of the IoD in 2015 and has previously won Best Family Director in Northern Ireland in 2012 and 2015. After his strong sector performance in 2015, he has now been awarded Best Overall Director in the UK 2015 as well as UK Family Director of the Year 2015 by unanimous decision of all the judges from every category.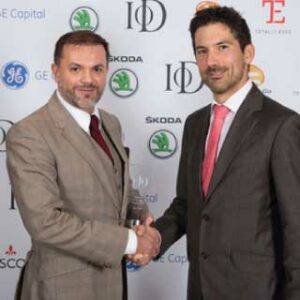 Simon is the 3rd generation of his family to run Hunter Apparel Solutions since 1936 and like his fore-bearers, has managed the business through the ups and downs of the UK economy. The business is currently growing its export business outside Europe and establishing a growing reputation as a leader in software technology in the clothing sector. Simon is also the holder of the 2014/15 Best Business Manager Award, as awarded at the Professional Clothing Annual Award Ceremony at which his company also won Best Bespoke Work-Wear Design and Best Managed Major Contract.
Simon had the following to say after receiving the award:
"In 2012 I won the Highly Commended Family Business Director of the Year award at the UK Institute of Directors finals in London. I then thought I would give it another go this year and thank goodness I did! At the same award ceremony for 2015 on Friday I won UK Family Director of the Year and most importantly Best Overall Director in the UK. I have to say the feeling was amazing, I was genuinely so shocked. I have just found out today that the result was selected as every judge had voted for me unanimously across every category; it really is an incredible surprise. I was so proud to bring the award back to NI; we did really well as a country with 4 first prizes."